The Best London Restaurant Vouchers to Gift in 2022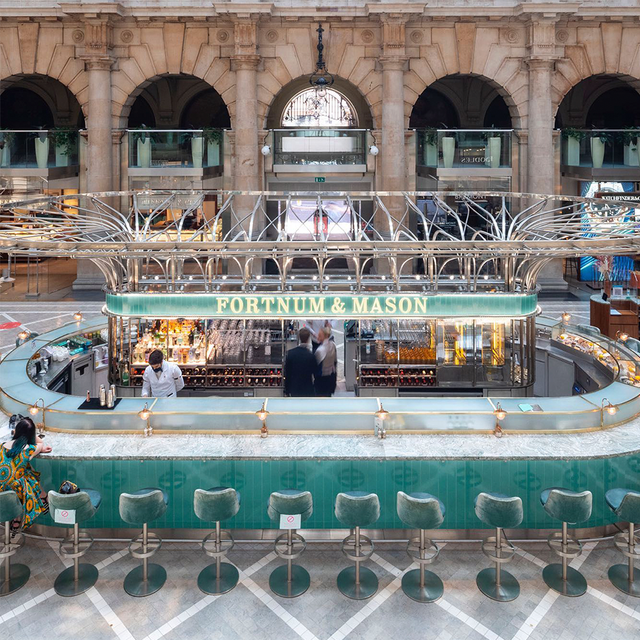 Instagram/Holborn
You can't really go wrong with a London gift voucher. Not only do you get to treat your friend or family member to an experience that they wouldn't usually spend their money on, but you also get to show off your own good taste in the process. Who knows, they may even spend it on you. It's win win.
Except, the thing is, we were lying up there in the first half of that opening sentence. You can absolutely go wrong with a London gift voucher, and you can do that by choosing the wrong restaurant. A vibeless tourist trap, perhaps, or a glorified canteen in a mad rush to turn tables, or simply somewhere… not very good. But we're here to present you with the very best options, so that you know you're gifting something memorable.
These are unique experiences at some of the capital's most celebrated restaurants. Tasting menus and master classes, all presented at a reasonable price. There's no better way to do it (and if you're starting to consider gifting these to yourself instead, we completely understand. No judgment here.)
Without further ado, here are the best London restaurant gift vouchers available right now, including vegan and sustainably-sourced options:
Advertisement – Continue Reading Below
1
Il Teatro della Carne, Shaftesbury Avenue
virginexperiencedays.co.uk
US$48.00
Shaftesbury Avenue's Il Teatro della Carne – or 'The Butchery Theatre' – is a relatively recent addition to Theatreland, but the Italian restaurant fits in perfectly. Serving up sustainably sourced meat and fish with a perfectly choreographed flourish, it's a memorable experience to say the least. What's more, it's surprisingly affordable: two courses (with options including oysters, meats and confit fish) with Prosecco for two comes in at £48 with this voucher. It's also available seven days a week.
2
Il Teatro della Carne, Shaftesbury Avenue
virginexperiencedays.co.uk
US$180.00
Or-or! – you could go for a butchery class and meal instead. For £180, the three-hour class will teach two people about the provenance of the restaurant's produce, how to select the right meat, the importance of timing and then how to prepare and cook cuts. Then there's a master class on wine pairings (and tasting), followed by a three-course meal.
3
The Petersham, Covent Garden
virginexperiencedays.co.uk
£120.00
It was big news when Petersham Nurseries, the leafy pot-to-plate Italian restaurant, café and teahouse in Richmond, announced that it would be opening an outpost in Covent Garden in 2019. How would The Petersham, now shorn of 'Nurseries', fare amidst the shopping bag-swinging bustle of the West End?
Very well, it turns out: just as delicious, just as aesthetically pleasing, and the somewhat hidden courtyard is a relative oasis. For £150, you can buy a six-course seasonal tasting menu for two, with vegan and gluten-free options available. A satisfyingly calming and delicious way to relax from or prepare for a big night ahead.
4
Gordon Ramsay's Savoy Grill
virginexperiencedays.co.uk
£90.00
The first of a few Gordon Ramsay entries in this list, having dinner at the Savoy Grill is well up there when it comes to London tick box entries. It first opened its doors in 1889, but has changed substantially since then; the most recent renovation of the Savoy Hotel happened in 2011, costing £220 million. The décor is Twenties-inspired art deco opulence – think red tortoise-shell paneling, crystal chandeliers and all that good stuff. The food is, naturally, great, with a keen focus on seasonality. You can gift a memorable three-course lunch for two, selecting from a changing set menu (and there's also a deal that will get you entry to The View from the Shard to go alongside it).
virginexperiencedays.co.uk
£238.00
The very first Indian restaurant in London to score a Michelin star (there are now six), the influence of Benares on the London food scene is clear to see. It's been here a while, over two decades in fact, but Benares has kept up its extremely high standards. The work of Sameer Taneja, introduced as executive chef in 2019, has been met with rave reviews – especially the eight-course tasting menu. You can get it for two people, alongside champagne cocktails, for £238.
Alternatively, you could go for the three-course lunches with cocktails or paired wines for £76 and £131 respectively.
SHOP
Something a little different: a pie masterclass, situated within the very, very nice Holborn Dining Rooms. Currently there are only sessions for children, in which they are presented with a personalized apron, hat and mini rolling pin, and spend two hours perfecting the proud art of pie-making, but adult lessons will be back on the agenda soon.
virginexperiencedays.co.uk
£52.00
Celebrity restaurateur Raymond Blanc had one ambition with Brasserie Blanc: to serve up authentic, hearty French food, the kind his mother would make for him as a child. There are now fourteen of them scattered across the country (with four in London), which makes it the perfect pick for a restaurant voucher. It's also very reasonably priced, offering a sustainably sourced three-course meal for two with wine for just £52. You can also grab a two-course meal for £44, which also comes with a glass of wine. Bon Appetit.
8th
Launceston Place, Kennington
London-Kensington
virginexperiencedays.co.uk
£298.00
Head chef Ben Murphy's seasonally inspired modern European food is as delicious as it is memorable, and the highly-rated Kensington eatery's tasting menu is a true experience. For £298, you'll get eight courses with matching wines chosen by a sommelier. Decadent, but worth it.
9
Gordon Ramsay restaurants
virginexperiencedays.co.uk
£108.00
Depending on when it's deployed, a Sunday lunch voucher could turn out to be the greatest gift you ever give. On an apocalyptic hangover, for example, when only a Gordon Ramsay-approved roast will do. This deal for two, available at seven of his restaurants in London – including Bread Street Kitchen and his Bar & Grill – comes with entry to The View from The Shard for the price of £108.
10
The Fortnum & Mason Bar and Restaurant at Royal Exchange
virginexperiencedays.co.uk
£75.00
The Fortnum & Mason Bar and Restaurant at Royal Exchange is up there with the capital's most Instagrammable spots to grab a meal – the courtyard set-up is pretty special. At £75 for two people, you'll be met with a welcome cocktail each and be given the choice of three courses from the seasonal set menu.
SHOP
The oldest restaurant in London (it opened its doors in 1798), Rules understands how to make a good drink. That's why the Covent Garden institution is offering a cocktail master class, in which you learn basic bar techniques and then get your head around at least four classic concoctions. They run twice each month on Wednesdays, and tickets cost £95.
Awarded its first Michelin star in 2011, Galvin La Chapelle, a red-brick French restaurant situated in a 19th-century school chapel, truly stands out amidst the towering glass structures of Liverpool Street. The dining room is grand and ornate, and the cooking is understatedly delicious. For £150, you can get yourself a three-course meal for two with a glass of 'bubbles'. Alternatively, you could go for the seven-course Menu Gourmand (with a complimentary cookbook) for £225.
Marlyone's Jikoni is the first restaurant from Ravinder Bhogal, a one-time student of Gordon Ramsay and former TV star. The ever-changing, experimental 'no borders' menu, filled with small and big plates, draws inspiration from the Middle East, Asia, East Africa and Britain, and the charming interior is decked out like a living room. We're big fans. You can grab a tasting experience for two, paired with a bottle of wine, for £149.
This content is created and maintained by a third party, and imported onto this page to help users provide their email addresses. You may be able to find more information about this and similar content at piano.io
Advertisement – Continue Reading Below